Nuclear industry news
17.04.2014
Exhibition "Nuclear Industry China 2014" boosts civil nuclear trade & cooperation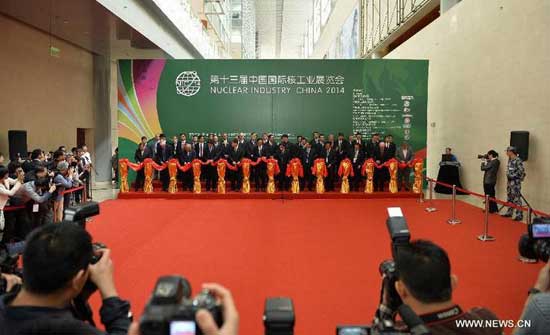 Photo: (Xinhua/Li Xin)
The 13th China International Nuclear Industry Exhibition in now underway in Beijing. The biennial event aims to showcase the most recent advancements and innovations in nuclear energy. And this year, it's also looking to boost cooperation between China and the rest of the world.
More than 200 exhibitors, from around 40 countries.

The 13th China International Nuclear Industry Exhibition is a platform not only to showcase and educate visitors about nuclear energy, but more importantly, to promote technology exchanges.

Started in 1989, the biennial exhibition has witnessed over two decades of growth in nuclear technology exchanges and trade.

Shen Lixin, Deputy Secretary-General of the Chinese Nuclear Society says that in this period, China has expanded its reach, exporting nuclear technologies to countries in South Asia, Africa, Eastern Europe, and South America.

"Trade and cooperation has helped some countries solve their energy supply problems. Nuclear power plant construction has also created job opportunities for local people. And by generating electricity, nuclear power plants have helped increase tax revenue." Shen said.

China has also seen rapid growth in power plant design and operations, construction and maintenance, and equipment supplies.

As a result, China has established itself as more than just a technology exporter. It is now among the world's nuclear giants.

"China and France are now working together on building a nuclear power plant in the UK. These three countries all have strong nuclear technology, but China is relatively better at power plant construction, so the three are cooperating under this new model." Shen said.

There are disagreements on trade and cooperation, but they are minor. And all parties share the same cooperation philosophy. After more than 30 years of development, China's nuclear power technology has not only improved the domestic industrial chain, but also brought new energy to the economic development of its partners.
Source: english.cntv.cn